We invite you to visit Trillium Resort & Spa and leave part of the world behind. Our accommodations do not have cable, but a good selection of DVDs is available. All chalets and cottages have a flat screen TV, DVD & CD players, radio, complimentary wireless internet, hairdryer, and coffee maker. Cots may be available upon request for a small fee. We have accommodations selected as pet friendly; please mention at the time of reservation that you will bring along your pet. Additional charges apply. Contact the resort for a full description of the pet policy. Please let us know of any mobility issues so we can allocate a proper accommodation for your needs.
The Falling Water Chalet
Perched idyllically beside the soothing, tumbling waterfall that spills from Devine Lake is the Falling Water Chalet. Offering seclusion, the one bedroom chalet, also known as the Honeymoon Suite, conveys charm and coziness, featuring a large dining area, wood-burning stove, kitchen, and a full bathroom with a bubble tub. A terrace, overlooking the falls, lets you capture tranquil sounds and restful views.
Lakeview Chalets
These Muskoka-style accommodations are located on the hill side among towering pines. With a bedroom and an open loft, the post-and-beam chalets feature handcrafted and leather furnishings, gas fireplace, cathedral ceiling, hardwood flooring, kitchenette, full bathroom, and a large deck offering views of the lake.
The Cottages
In the midst of white pines, the rustic yet comfortable and charming cottages have a bed-sitting open concept setting with a gas fireplace or wood-burning stove, a hide-a-bed couch, and full bathroom. Several of the cottages have a kitchenette. The configuration may vary from one cottage to another.
Resort Map
View the entire resort layout.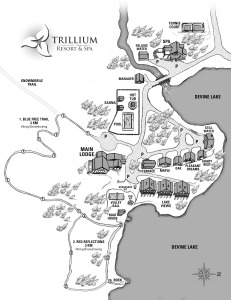 View our Photo Gallery to see pictures of the accommodations (link above on left-hand side). More pictures are available on our Facebook page (link in navigation bar on right-hand side).
Please call for more information 1.800.263.6600.
Area Map